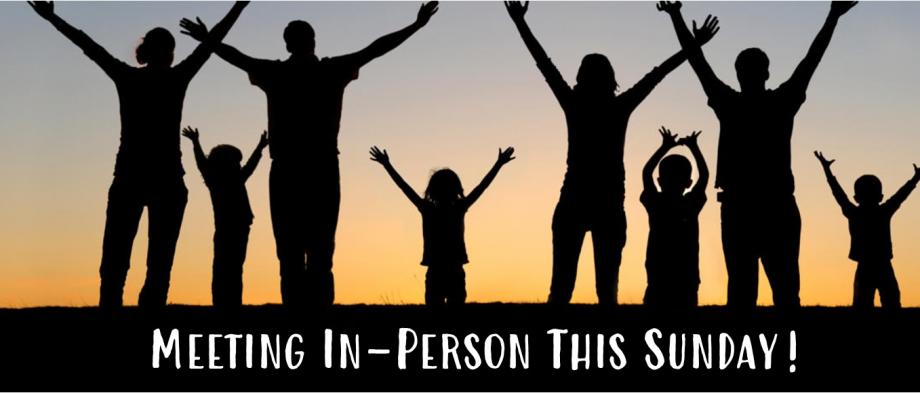 KEY POINTS!
* Meeting Sundays at 11 AM at Chapel Wood (Small Groups at 9:45)

* Masks and Social Distancing are Required (by state mandate)

* Do not attend if you are ill or have been exposed!

* Online services will still be offered!
MORE INFORMATION
Masks Are Required!
State health guideline require everyone in attendance at an outdoor (Phase 1) or indoor (Phase 2) worship service to wear a mask.

Bring your own mask, or we will have masks available.

If you are not comfortable wearing a mask, please continue to participate in our online worship service.

Note that churches are particularly susceptible to airborne transmission of COVID-19 due to singing which projects virus particles much further than normal conversation and activities.
Social Distancing is Required!
We will place rows of chairs at six-foot intervals.

People from different family groups on a single row should leave six feet between themselves.
Who Should NOT Attend!
Anyone who has any signs or symptoms of possible COVID-19:

Cough

Shortness of breath or difficulty breathing

Chills

Muscle pain

Headache

Sore throat

Loss of taste or smell

Diarrhea

Feeling feverish or a measured temperature greater than or equal to 100.0 degrees Fahrenheit

Anyone who has had recent known close contact with someone (family member, co-worker, etc) who is ill.

Anyone with a compromised immune system that would be particularly susceptible to COVID-19

Any one not comfortable with requirements to wear masks and practice social distancing
Service Details
Children: Children are welcome but will stay with their families. We will NOT have nursery or children's church at this time.
Offerings: We will not pass offering plates. We will make a basket available on a side table. We encourage you to make use of our on-line giving platform.
Sanitizing: We will be practicing extensive cleaning and sanitizing of chairs, tables and other contact surfaces.
Restrooms: Social distancing and limit 2 in the restroom at one time.
CONSIDERATIONS THAT GUIDE OUR DECISION

The State of Washington has issued new guidelines that do allow us to meet in person. During Phase 1, we can meet outdoors. During Phase 2 we can meet indoors subject to capacity restraints. There are a significant number of requirements that we have to meet in order to meet during this time. As we are not being restricted from actually meeting, we will make every effort to comply with the state requirements at this time.

There are several considerations both personally and as a church family that have gone into this decision.

Our Biblical obligation to meet together and worship God.

It is clear that scripture encourages believers to meet together for worship and fellowship:

"And let us consider one another in order to stir up love and good works, not forsaking the assembling of ourselves together, as is the manner of some, but exhorting one another, and so much the more as you see the Day approaching." (Hebrews 10:25; NKJ)

Our Biblical obligation to be obedient to our government authorities

It is also clear from scripture that we are to be subject to those who are in authority over us.

"Let every soul be subject to the governing authorities. For there is no authority except from God, and the authorities that exist are appointed by God." (Romans 13:1; NKJ)

The health and safety of our church family.

We take the health, safety, and security of our church family very seriously. We are willing to forgo our own comfort and preferences in order to protect each other.

Our witness for Christ to our community.

The church doesn't exist for itself; we exist to proclaim the message and hope of Jesus Christ. We will act with compassion and integrity before our community.

Unity and love within the Body of Christ.

We recognize that people are in different circumstances regarding COVID-19. In our church family, we have frontline responders and medical workers who are exposed daily. We have people in our congregation who have compromised immune systems. We recognize that people have very different opinions and feelings about the current COVID-19 situation. The scripture is clear that the unity of the Body of Christ is of tantamount importance. Out of love, we subordinate our personal preferences for the unity of the church family.

"making every effort to keep the unity of the Spirit through the bond of peace." (Ephesians 4:3; CSB)